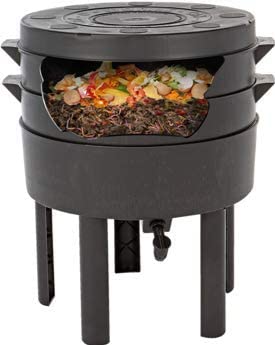 Worm composting may sound intimidating, but in reality, it is pretty straightforward. The most important is to have the right equipment, and that includes a composting bin. This is the one to collect the food scraps and house the worms until they create droppings, which you can then use as a natural fertilizer.
Are you looking for the best worm composting bin? In this article, our focus will be on Can-O-Worms. Produced by Tumbleweed, it will let you convert your kitchen scraps into fertilizer. It is one of the most popular models available, but is it worth your money? Read on to find out!
Design
To start this review, we'll take a look at the design of this worm composting bin so you can decide if this is suitable for your needs or if you should be looking for another product.
Patented Multi-Level Design
This is perhaps one of the best things about the Can-O-Worms, which is also what separates it from most of its competitors. It has a three-tier tray system. The trays are stack on each other. By being vertically positioned, it will maximize the use of available space, allowing the container to house more worms at a time.
The first tray, which you can find at the bottom, is the collection container. This is the one that collects the worm by-products. The second and third levels, on the other hand, are the trays that house the worms and the bedding. Collectively, it can house up to 20,000 worms, which is quite impressive given its space-efficient design.
100% Recycled Plastic Construction
Composting is eco-friendly, but it is better for the environment when you are using the Can-O-Worms. It is made using recycled plastic, so you are basically doing something good for the environment with every purchase.
Interchangeable Trays with Mesh Base
Another good thing about the design of this bin is that you can remove the tray if you don't need a lot of space. Plus, there is a mesh base, which will encourage ventilation to improve the living environment of the worms. This also allows the worms to easily go up and down.
Pros
If you are looking for more compelling reasons to choose the Can-O-Worms for a worm composting bin, here are some benefits you must know.
Easy to Use: Are you new to worm composting? There's nothing to worry about when you are using this product. One thing that we like the most is that it is user-friendly. The installation takes only a few minutes, which you can accomplish even without a helping hand. Taking care of the worms and harvesting fertilizer from the castings is equally effortless.
No Foul Odor: A common problem in many worm composting bins is that you will notice an unwanted smell. To prevent this from happening, this product is designed with a tight-fitting lid. It creates a secure enclosure, making sure that any smell will be contained in the trays. More so, to prevent the foul odor from having a foul smell, pay attention to what you are feeding the worms. Also, resist the urge to add water as it can increase moisture level and eventually cause the odor.
Comes with a Coir Brick: To make it deliver the best bang for the buck, the manufacturer also includes a coir brick. Made of coco husks, this will make an excellent addition to the bedding as you start your worm bin.
Has Built-in Molded Mounds: Another good feature of this worm bin is the built-in mound. This is present in all trays, which will allow the worms to move up. This will encourage mobility, which is also important for their health.
Designed with a Screw-in Cap: At the bottom of the collector tray, there is a screw-in cap. This will prevent leaking while also creating a tight seal to manage odor. When you are ready to harvest, you can have it easily screwed.
Stackable Design: The stackable tray design is good if you are looking for space-efficiency. It houses more worms that a traditional bin. The best thing is that you have the option to get rid of the top tray if you do not need to house a lot of worms.
Stable: Even if you maximize the capacity of the worm composting bin, you can expect that it will remain stable. This is because it comes with five legs. To be sure, however, see to it that it is on a level surface.
Easy to Drain: Drainage is one of the most important things in a worm composting bin. Otherwise, too much moisture will accumulate, and this will create an unhealthy living environment. The good thing is that with this product, excess liquid will drain at the bottom of the collection tray, and in turn, it will exit through the spigot.
Accommodates a Lot of Worms: Despite its compact design, it can accommodate up to 20,000 worms when it is at full capacity. From hobbyists to commercial users, the size is incredible. The best thing is that it is versatile because the trays are removable.
Cons
Despite all the benefits, it is undeniable that there are problems. To make this review unbiased, let's also have a look at the drawbacks of this product.
Can be Prone to Durability Issues: While recycled plastic is good for the environment, it can have durability issues. Plastic is known for being flimsy, and such is one of the problems in this product. Pay attention to proper care and maintenance to ensure the longevity of the worm composting bin.
Does Not Come with Wheels: If mobility is an important concern, then this product can disappoint. It is fixed in its position because there are no casters. It would have been better if it comes with built-in wheels, which would have made it easier to move it around.
Difficult to Clean: While it is generally easy to use, there are some complaints about how cleaning can be quite tricky. The side vents are specifically problematic because of potential clogging. The residues that can get stuck in this part of the bin can be difficult to remove.
FAQs
Got questions about Can-O-Worms? Here, we'll answer some of them.
How do you assemble Can-O-Worms?
One thing that we like the most about this product is its user-friendly design. Right out of the box, things are quite easy. Start by attaching the collector tray to the five legs. All the screws needed will be provided in the package. Once it is ready, place the first working tray on the top of the collector tray. Add the second collector tray if you need more space. Otherwise, you can keep it for the time being. Close with the lid.
What are the dimensions?
When assembled, the worm bin will have a width of 510mm, height of 650mm, and length of 510mm. This is a space-efficient composting bin, so it is perfect even for small spaces. The vertical design allows it to accommodate more worms despite being small.
What is included?
Every purchase of Can-O-Worms comes with five legs, one collector tray, two working trays, and a lid. You will also receive a coir brick. Plus, it has an easy-to-understand manual from the manufacturer. Honestly, we feel that even without the manual, you can complete the installation of the worm composting bin within minutes. It won't require too much effort. Even by yourself, you can assemble the unit.
Where is it made from?
The Can-O-Worms composting bin is made from Australia. You can be confident that it is reflective of the best possible quality!