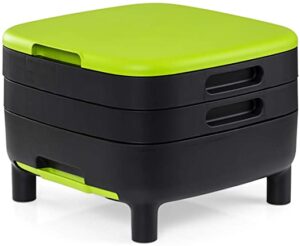 If you are into gardening, then you probably heard about worm castings. Considered as the most dependable organic fertilizers and composts for gardening, these worm castings are easy to generate on your own with the aid of your kitchen scraps. I think you also need to invest in the best worm composter if you intend to have your own worm castings. In that case, you may find the Maze Worm Farm Composter helpful.
With the help of this composter, you can begin your journey towards composting. It can definitely make you feel good with its ability to lessen your carbon footprint even at home. You just have to collect excess coffee grounds, eggshells, and veggie scraps and put them in the compost bin. It is a big help in reducing the garbage right at home.
Let's get to know more about Maze Worm Farm Composter and how can it be of help through this review.
Design
In my opinion, this Maze Worm Farm composter is one of the most stylish composting bins in the market right now. It boasts of its sleek and contemporary design. It is so stylish that no one can sense right away that it has worms inside and works in decomposing food scraps. Check out the unboxing!
Basically, it has a vertical design, which also comes with two rotatable trays. The base is strong and sturdy with an open drain. The inclusion of this open drain is a big help as it optimizes aeration. The design also features a worm saver tray in bright green. It can help ensure that the worms do not fall to the bottom tray.
Compact and Customizable Construction
The Maze Worm Farm Composter also boasts of its compact structure. It is compact that it will not take a lot of space in your home. It is not like other composters that are quite bulky. Aside from that, it is customizable and flexible, making it possible for it to fit seamlessly into different parts of your home. Expect it to look nice whether you put it on the deck, garden, or balcony.
Two Rotatable Trays
The fact that this composter features two trays is also a big advantage. The trays boast of their rotating and stacking designs, thereby ensuring that you will no longer have to invest in additional trays. Overall, both trays have good capacity, capable of holding up to a thousand worms.
2L Flat Collection Tray
This composter also features a 2L fat collection tray. You can find it beneath the worm farm. It offers an assurance that it will collect rich worm tea upon draining.
Pros:
Eco-friendly – One great advantage of this composter is that it is constructed mainly from recycled materials. It uses recycled plastic, which is good, especially if you want to contribute to saving the environment.
Promotes proper airflow – I think this benefit can be attributed to the open drain found at the base. It helps prevent the build-up of worm tea and allows air to flow properly from the worm farm's bottom.
Easy to clean and maintain – It has a worm saver tray, which you can easily pull out for ease of scraping of the worm casting. With that, you can easily clean it and guarantee the proper flow of air and liquid.
Promotes ease of food scrap disposal – Another advantage of this Maze Worm Farm composter is that it has a top tray, which you can use to dispose of food scraps with ease. With its lid, you can prevent flies from penetrating the bin, too.
Flexible shelving design – The vertical design of this composter is also very flexible. With that, it can work well in various parts of your home, including your garden, balcony, and patio.
Easy to move – I like how easy it is to move this composter inside during the winter. It is due to its compact size and design. The fact that you can easily move it indoors when the winter season arrives is a good thing as this means you do not have to expose the worms to excessive cold.
Cons:
Can get heavy when it becomes full
Pricier than other composters available in the market
Frequently Asked Questions (FAQs)
How to use the worm bin?
To start using the worm bin, gather dry materials, and use them as bottom beddings. Among your choices for dry materials are leaves and shredded paper. Add some water then mix until it reaches a sponge-like consistency. Do not forget to drain to remove excess water. After that, add extra dry beddings, including crushed eggshells, limestone, and soil. You can then flatten the bedding and top with the worms.
Is Maze Worm Farm composter compact?
Yes, it is so compact that it works perfectly for anyone who only has small space to spare. With its 9-inch length, 0.1-inch width, and 12.75-inch height, you will not have any problems finding space for it at home.
How to prevent flies and other insects from getting inside?
One advantage of the Maze Worm Farm composter is that it features a lid in bright green that can help prevent flies and other insects from getting inside the bin. However, you can also do something to further drive these insects away.
For instance, you may want to bury food scraps lightly in the bedding (should be around one to two inches beneath the surface). Another thing that you can do is add several sheets of damp newspaper or one piece of damp cardboard to the topmost part of the bin. This should further block the insects while retaining the bedding's moisture.
What can I put inside the worm bin?
You have several choices as to the foods you can throw inside your worm farm or bin. Among them are veggie scraps, fruits, coffee grounds, crushed eggshells, tea bags, small pieces of bread and pasta, and moist newspaper and cardboard. These are the perfect foods to feed the worm. However, you also have to be aware of the foods you should not put inside, including limes, pet feces, onions, garlic, fish, meat, and bones.
Why do you need a composter?
One reason why you should invest in a composter such as this one is that it can save a lot of space. It does not require as much space as the one needed for a compost pile or bin. A worm composter boasts of a small footprint. Aside from that, it is almost odor-free, making it an even better choice for people who have no other option but do the composting indoors.
A good composter also contributes to beautifying your gardens. It is because you can use it in collecting helpful nutrients, microorganisms, and enzymes for your plants to grow. Moreover, having a composter such as the Maze Worm Farm composter is hassle-free. While you may need to spend time setting it up, it requires minimal work and effort once it is completely assembled. The reason is that the worms will start doing most tasks for you.
Conclusion
Maze Worm Farm composter is indeed a great investment, especially if you are seriously thinking about making your own compost. It has a lot of nice features that promote ease in composting. Aside from that, it is easy to maintain, use, and clean up. You can even easily harvest completed castings. I think it would be your most viable investment if you are thinking of producing high-quality compost that you can use for your garden.