Today, I'll be sharing my thoughts on the IDOO Smart Kitchen Electric Composter. Let's dig in!
Key features
Automatic Composting System: The device employs high-temperature drying, milling, and cooling methods to convert food waste into pre-compost in just a few hours.
Double Safety Locks: The composter features double safety locks designed for families with children.
Automatic On-Off Setting: The device comes with an automatic on-off setting to avoid any inconvenience.
Odor-Free: The composter has a carbon filter that helps to eliminate any odor produced during the composting process.
Compact Design: The device has a 3L capacity and is designed to fit on a kitchen countertop, making it a convenient addition to any kitchen.
Replacement Filters: Replacement-activated carbon filters are available for purchase separately.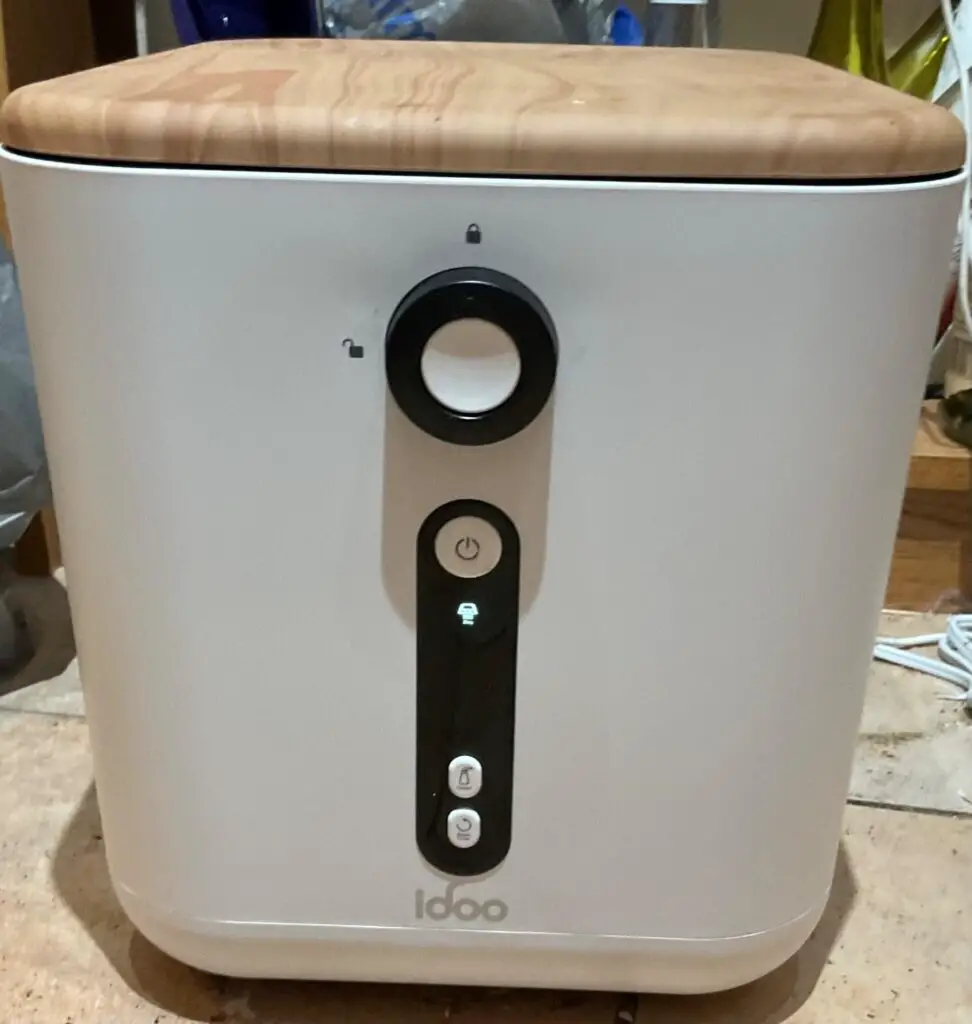 Embracing Sustainability with the iDOO Electric Kitchen Composter
Reduce, Reuse, Recycle – A Sustainable Kitchen Solution
As an avid cook and eco-conscious individual, I've always been passionate about finding ways to reduce my environmental impact. So, when I stumbled upon the iDOO 3L Smart Kitchen Composter, I was intrigued. The idea of turning kitchen waste into nutrient-rich compost for my plants sounded like the perfect solution to both minimize waste and nourish my indoor greenery.
A Solution for State Regulations
Living in a state where tossing food scraps into the trash is prohibited, and composting services aren't readily available, I was facing a conundrum. The iDOO composter seemed like a silver lining. With a simple push of a button, it promised to transform my food scraps into a pre-compost that I could use for my plants.
First Impressions
Upon receiving the iDOO composter, I was pleased with its sleek design that seamlessly blended with my kitchen decor. Setting it up was easy, but I must admit, I had to remove quite a few labels and seals before getting started. Nonetheless, I was excited to see how it performed.
From Scraps to Pre-Compost – A Magical Transformation
My first trial involved a mix of wet and dry kitchen scraps, including mint leaves, granola, vegetable ends, and bread. I initiated the cycle in the evening and was pleasantly surprised by how quiet the machine was. The next morning, I found that the scraps had been reduced by about 90%, leaving me with what resembled rich pre-compost.
Eco-Friendly Tips and Tricks
I quickly learned a few tips to make the most out of my iDOO composter. It's essential to chop up fibrous materials, like banana peels and citrus rinds, to prevent clogs. Additionally, I found that using a small amount of charcoal in the collection bucket helped control any potential odors. The composter's efficiency amazed me as it transformed my kitchen waste into a valuable resource for my plants.
A Future Fueled by Sustainability
As the seasons change, I've planned to incorporate the pre-compost into my garden to nurture it through the winter. Plus, I'm excited to explore using it in my houseplants. The iDOO composter has not only helped me abide by the food scraps law but also empowered me to take control of my waste and contribute positively to the environment.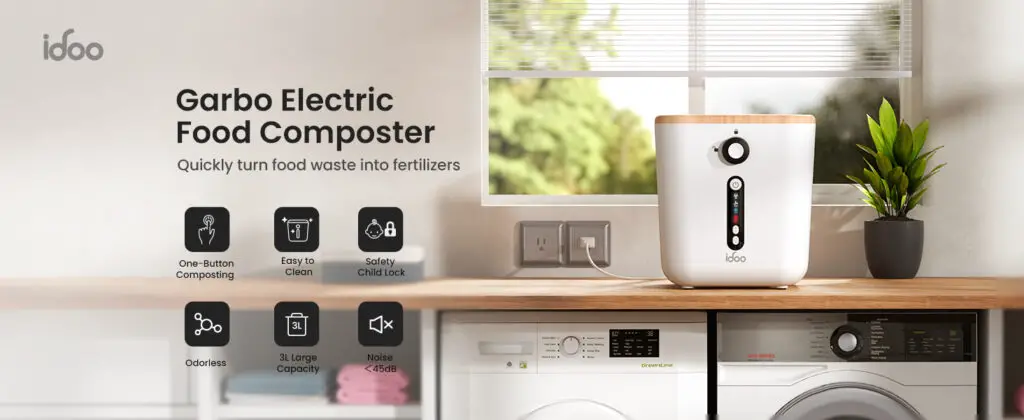 In conclusion, the iDOO 3L Smart Kitchen Composter has become an integral part of my sustainable lifestyle. It has transformed the way I view kitchen waste, offering a convenient and efficient solution to turn scraps into plant-loving gold. If you're a fellow eco-enthusiast looking to make a meaningful impact, this electric composter might just be the game-changer you've been searching for.
Key takeaways
🔄 Simple design and components of the composter, including a carbon filter for odor absorption.
🥦 Demonstrating the types of kitchen waste that can be composted, following the user manual's guidelines.
🌿 Review of composting results: successful breakdown of most materials, avoiding hard stems for better grinding.
💪 Positive outcomes in terms of landfill waste reduction, compost quality, and ongoing testing for durability.
Pros and Cons
What I Liked
Easy to use and operate with just one button. The appliance converts food waste into pre-compost for your garden within 6 hours.
Helps reduce food waste by up to 90%, saving you money on garbage disposal fees and minimizing your carbon footprint.
Features a child lock for safety, making it suitable for families with children.
Compact and stylish design that doesn't take up too much space on your kitchen countertop.
Operates quietly and odorless, thanks to the activated charcoal filter that absorbs any odors.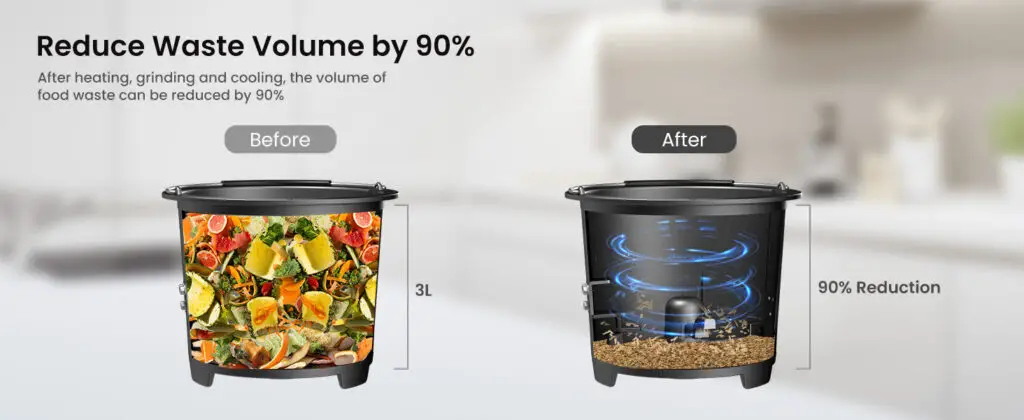 What Can Be Improved
The composter tends to get easily clogged and struggles with fibrous materials like mango peels.
The moisture sometimes leaks from the collection cup, so it's better to use the composter outside or in a well-ventilated area.
Quick Verdict
iDOO 3L Smart Kitchen Composter Countertop is a convenient and eco-friendly solution for reducing food waste. It efficiently converts your food waste into nutrient-rich pre-compost for your garden, all with just the push of a button. While it may struggle with fibrous materials and occasional leaks, it still offers a stylish design, quiet operation, and a child lock for added safety. If you're looking to minimize waste and nourish your plants, this composter is definitely worth considering. Check it out here!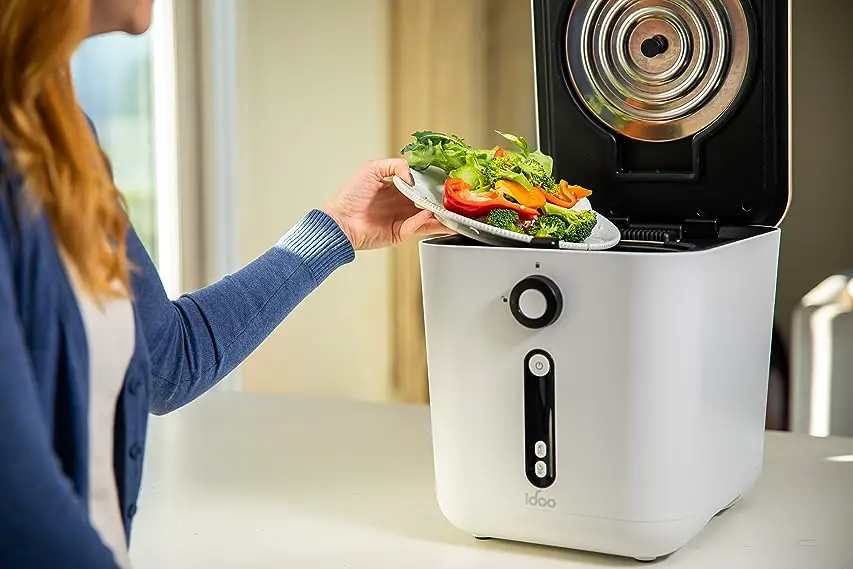 Unboxing – What's Inside?
As an environmentally conscious individual living in the USA, I recently decided to purchase the iDOO Electric Composter for the Kitchen from Amazon. I was thrilled to find an efficient and odorless solution for composting my kitchen waste. The delivery was surprisingly fast, arriving within just a few days of placing the order.
When I eagerly opened the box, I found the following items:
An iDOO Electric Composter for Kitchen
A power cord
A user manual
Specifications
Let's take a look at the specifications of the iDOO Electric Composter for Kitchen:
Brand: iDOO
Manufacturer: iDOO
Item Weight: 15.9 pounds
Product Dimensions: 11L x 13.7W x 12H
Capacity: 3 Liters
Color: White
Material: Composter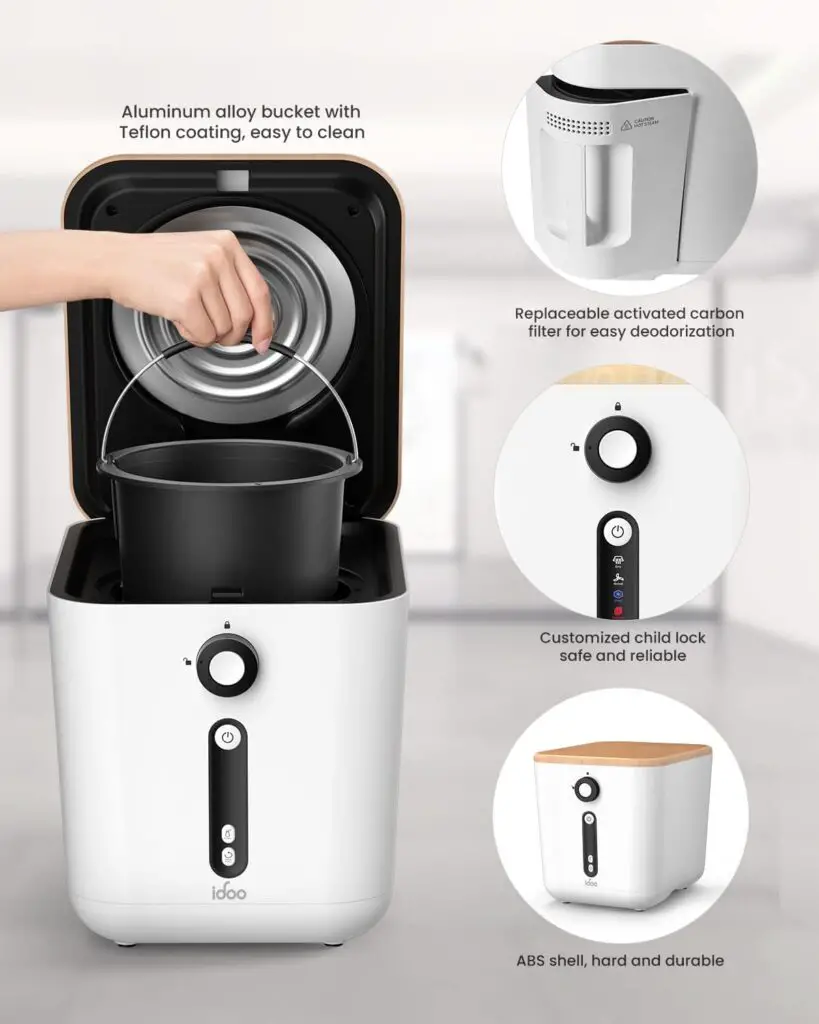 Documentations
The user manual provided in the box proved to be incredibly helpful in setting up and understanding how to use the iDOO Electric Composter. It provided step-by-step instructions and illustrations, making the process seamless. If you are interested in learning more about the product and its functionalities, you can find the user guide here.
Features – What I Found
Fast and Efficient CompostingThe iDOO Electric Composter is designed to quickly convert food waste into pre-compost within just 6 hours. Using high-temperature drying, milling, and cooling methods, this electric composter accelerates the decomposition process, reducing food waste volume by up to 90%. This means you can significantly reduce your carbon footprint and minimize garbage disposal costs. Pro Tip: To ensure efficient composting, it's recommended to chop or cut the food waste into smaller pieces before adding them to the composter. This helps to speed up the decomposition process and ensures optimal results.
Space-saving and Stylish DesignThe iDOO Electric Composter features a compact and sleek design that won't take up much space on your kitchen countertop. With dimensions of 11.2*13.8*12.2 inches, it fits conveniently into any kitchen setup. The 3L bucket capacity allows you to compost a substantial amount of food waste without the need for frequent emptying. This composter's simple and stylish appearance adds a modern touch to your kitchen decor. If you're looking for a functional yet aesthetically pleasing composting solution, this electric composter is the perfect fit. For more details, click here.
Child Lock and Safety Features Safety is a priority when it comes to the iDOO Electric Composter. It features double safety locks specifically designed for households with children. These locks ensure that the composter won't start if the child lock is not engaged, preventing any potential accidents. In addition to the child lock, this composter also has an automatic on-off setting for added safety. This feature ensures that the composter only operates when it's supposed to, minimizing any risk of injury or mishaps.
Quiet and Odorless OperationThe iDOO Electric Composter operates silently, allowing you to use it without any disturbances. It is equipped with an activated charcoal filter that effectively absorbs odors, preventing them from attracting pests or insects. Pro Tip: To further minimize any odors in your home, it's recommended to use the electric composter in well-ventilated areas such as the garage, greenhouse, laundry room, or balcony. This ensures proper airflow and helps dissipate any potential smells.
Nutrient-Rich Fertilizer for PlantsThe iDOO Electric Composter not only reduces food waste but also provides you with a nutrient-rich fertilizer for your plants. After several days of fermentation, the pre-compost produced can be used to nourish your garden or pot plants, promoting healthy growth and enhancing plant vitality. This composting process involves breaking down organic materials and releasing essential nutrients for plants. By using the iDOO Electric Composter, you can contribute to a more sustainable lifestyle while giving your plants the beneficial nourishment they need.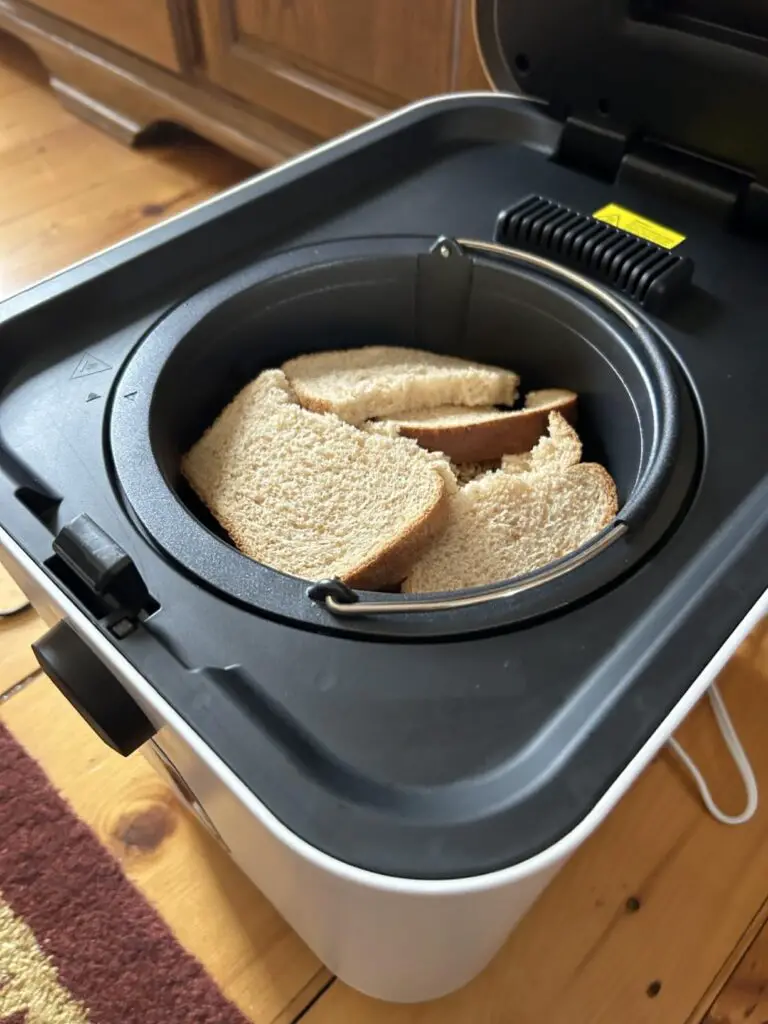 Review
I recently purchased the Electric Composter for Kitchen by iDOO and I must say, it has been a game changer for me. As someone who cares about the environment and wants to reduce waste, this composter has been a great addition to my kitchen. Not only does it help reduce food waste by up to 90%, but it also turns that waste into pre-compost that can be used as fertilizer for my plants.
One of the features I really appreciate about this composter is its compact size and stylish design. It doesn't take up much space on my countertop and adds a modern touch to my kitchen decor. Additionally, the electric composter operates silently and utilizes an activated charcoal filter to absorb odors, making it perfect for indoor use. I've noticed a significant reduction in pests and insects since using this composter.
Another benefit of this composter is its ease of use. With just one button, I can start the composting process and within 6 hours, the food waste is converted into nutrients for my garden. The child lock feature provides added safety for families with children. Although there have been some instances of the machine getting clogged with fibrous materials, overall, it has been a reliable and efficient composting solution.
If you're looking for a convenient and eco-friendly way to reduce food waste and enrich your garden, I highly recommend the Electric Composter by iDOO. Its compact size, quiet operation, and ability to convert waste into pre-compost make it a valuable addition to any kitchen. Click here to check it out on Amazon and start composting with ease.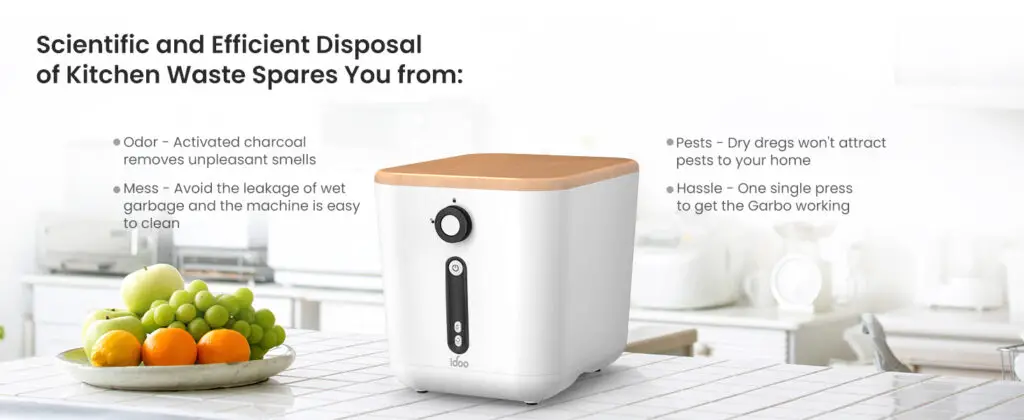 Still not sold? Checkout These Alternatives
If you're considering the IDOO Smart Kitchen Electric Composter, there are several other great options available as well. These alternate products offer similar features and benefits, making them worthy contenders for your kitchen waste management needs.
IDOO 3L Smart Kitchen Electric Composter: This compost machine is a top choice for its odorless operation, turning waste into pre-compost for plants. However, if you're looking for additional features and options, you might want to consider these alternatives:
Airthereal Revive Electric Kitchen Composter: With a 2.5L capacity and SHARKSDEN® Tri-Blade system, this composter efficiently turns food waste and scraps into dry compost fertilizer for plants. Its compact design and easy operation make it a convenient choice for any kitchen. Check it out here.
NIVIOP Electric Composter for Kitchen: This 2.5L smart kitchen waste composter offers ultra-high temperature drying and an odor-free experience. Its glass cover adds a touch of elegance to your countertop, while the machine efficiently transforms food waste into compost. You can find more information here.
Electric Compost Bin Kitchen | Smart Kitchen Waste Composter: With a 3L capacity, this composting machine is a great choice for larger households. Its white Candle WasteCycler design blends seamlessly with any kitchen decor. The composting process is made easy and efficient, creating nutrient-rich compost for your plants. See more details here.
Paris Rhône Smart Waste Kitchen Composter: This eco-friendly electric kitchen compost bin offers three modes for different composting needs. Its odor-free operation and ability to fertilize your garden make it a sustainable choice. Upgrade your kitchen waste management system with this smart composter here.
These alternate products not only offer similar composting capabilities but also provide additional features and options to meet your specific needs. Choose the one that suits your preferences and maximize the benefits of composting in your kitchen.